The first round of the NFL's first ever virtual draft is in the books, and all four QBs I looked at last ended up going. Joe Burrow, as predicted, was taken No 1 overall, and is eager to get to work with the Bengals. He was phenomenal at LSU, and hopefully we can expect more of the same with Cincinnati. The question now is whether they can get their organization together to build enough around him and not hinder his development with organizational dysfunction. We should all be rooting for Burrow to succeed; him ushering in a new era for the Cincinnati Bengals and the NFL would be a fantastic thing to watch.
Next, the Dolphins, I believe, 100% did the right thing. Despite all the pre-draft talk, they did not trade up and did not go for Herbert. They instead did what we all thought would be a sure thing a year ago, and took Tua Tagovailoa. Sure, Tua's health may not be a sure thing moving forward, but the potential is too high to pass this up. The Dolphins had been building up to this moment for a while. If Tua ends up being injured, you can always try again for someone else. But his upside is simply too high to pass up on, and I think this move will pay dividends for Miami. In Herbert, the Dolphins would have been getting a sporadic passer who likely would not have been able to cover up the holes on the roster. Instead, they get an efficient and dynamic ball distributor who has exceeded expectations at just about every stop in his career. Sure, there will probably be growing pains. But Tua is the type of player this pick is meant for.
Speaking of Herbert, he was the next QB taken at six by the LA Chargers. I don't have a ton of thoughts about this pick. The Chargers parted ways with longtime starter Philip Rivers earlier this year. They needed a QB, and he was the logical next guy. We'll see how it goes. I talked about Herbert in my last piece, and I have my doubts. Of course, he has a pretty good skillset, so it could definitely workout too. I'm not going to sit here and tell you it's a terrible pick and he has no chance. I just think there are more holes and questions there than with the other two guys. I guess we'll have to wait and see.
The last QB taken was the biggest surprise, not necessarily because he was taken, but just because of where he went. It was Jordan Love to the Green Bay Packers. If you thought the Aaron Rodgers/Packers drama was over now, boy do I have news for you. Get ready for a whole new offseason of Gossip Girl: Green Bay Packers edition!
For now, there are six more rounds to go, so let's go ahead and take a look at the next batch of draft eligible QBs.
Tier 2: To Each Their Own


These are the QBs that you're going to see a wide range of opinion on. Some will view them as top QBs, while others are going to think they wouldn't be worth a pick until much later rounds. It ultimately will depend upon what you're looking for, how you view certain attributes, and how you think these guys will transition their game to the NFL.
Jacob Eason

Eason came to the University of Georgia in 2016 as a highly rated 5 star recruit. He worked his way into the starting lineup early on and had a middling season as the bulldogs finished 8-5, but 4-4 in the SEC. The following year, Eason got hurt during the first game of the season and true freshman Jake Fromm took over. Fromm would take Georgia to the National Championship that year, and Eason decided to transfer to the University of Washington. Due to NCAA transfer rules, Eason had to sit out the 2018 season. He played his junior year at Washington and started all 13 games before declaring of the NFL Draft. Washington went 8-5 and 4-5 in the Pac-12, in part due to attrition, and longtime coach Chris Peterson decided to retire shortly after the season. However, Eason had a solid season, completing 64.2% of his passes for 3132 yards, 23 touchdowns, and 8 interceptions.
Eason's skillset lives up to his recruiting status. He's 6'6" and 227 pounds with a big time arm. Arm strength is Eason's main selling point, and it's immediately evident upon watching him. He can simply make throws that other QBs can't.
Eason is a bit of a throwback QB: He's a big, pocket quarterback with a big arm who will stand strong in the pocket and throw downfield. Greg Cosell of NFL Films compared him to Carson Palmer, and I certainly see that comparison. 
To me, Eason simply looks the part playing the position. I personally liked him more than Justin Herbert. While Herbert to me looks a bit awkward in the pocket, Eason looks like a natural back there. Though he played mostly out of the gun, he does have some experience under center with play action. There are some questions about his accuracy and play under pressure, but I believe it's coachable. To me, the coaching and system fit is huge for Eason. If you find a program that's willing to work with him and commit to him, he can develop. If not, he might fall by the wayside.
To that extent, I think the bigger question about Eason is whether there's a place for guys like him in today's NFL: That is, big, strong-armed, immobile pocket passers. In recent years, the NFL has moved towards smaller, more dynamic athletes. Eason can certainly move better than someone like Philip Rivers (most QBs can), but mobility is generally not his game. I think this shift has been apparent with the fate of two recent quarterbacks: Zach Mettenberger from LSU and Josh Rosen from UCLLA, both of the pure pocket passer mold. A decade ago, both these guys would have been looked at as top picks, but in today's game, both were given up on quickly in favor of more athletic guys. Mettenberger fell to the sixth round (in part because of injury concerns) and played for about half a season before the Titans drafted Marcus Mariota to replace him. Similarly, Josh Rosen was drafted in the first round and played one season on a horrible Arizona team before the new coaching staff replaced him with Kyler Murray and shipped him to Miami. There, they too showed little patience in Rosen, and his future is currently up in the air.
I think Eason's a really good prospect. Whether or not he'll be given an opportunity to succeed, is an open question. So much of whether these guys succeed or fail is about the situation they end up in, and Eason will certainly be no different.
Jalen Hurts

Jalen Hurts had a really interesting college career, and he comes to the draft as a very interesting prospect. Hurts came to Alabama in 2016 as a different kind of quarterback than Nick Saban was used to. Jalen was a dual threat QB who posed a lot of danger to defenses on the ground. As a result, Nick Saban rebuilt his offense with the help of Lane Kiffin, finally embracing the type of spread/option/no huddle attack that he had resisted for so long. He did so in order to create an offense that played to Jalen's strengths as a runner, and it worked wonders for Bama.
In two years at Bama, Hurts was 20-2 as a starter. During his freshman season, Alabama went into the Championship game against Clemson undefeated, only to lose to Deshaun Watson and the Tigers in the final seconds of the game. The following year, Hurts again took Bama to the Championship game, losing only to Auburn along the way. Except this time, Hurts was benched for Tua Tagovailoa at the half, who went on to lead the comeback win and hold onto the Bama starting job. Hurts produced the following during his two years starting at Bama:
2016: Pass: 62.8% comp, 2780 yards, 7.3 y/a, 23 TD, 9 INT
           Rush: 954 yards, 5.0 y/a, 13 TD
2017: Pass: 60.6% comp, 2081 yards, 8.2 y/a, 17 TD, 1 INT
           Rush: 855 yards, 5.6 y/a, 8 TD
Heading into the 2018 season, Tua was the clear starter at QB for Bama, as it was very evident that he was the superior passer over Jalen. Yet, Nick Saban continued to praise Jalen and was hesitant about anointing Tua the starter full on, which culminated in an infamous post-game blowup with Maria Taylor.
This gives you an idea of the kind of respect Jalen commanded at Bama. Despite being forced to bench him because of Tua's play, Nick Saban really did not like the idea of benching Jalen Hurts. And the respect that Bama had for Hurts would only solidify during the 2018 season, where he decided to stay at Bama as a backup instead of transferring. This decision paid off for Hurts during that year's SEC Championship game. Tua was hurt, and Jalen came into the game late and led Bama to a win–similarly to the way Tua had done so in the previous year's championship. This time, their roles were reversed. Tua would start during the playoffs after healing up, but Jalen's status as a legend in Tuscaloosa had been solidified.
But Jalen wasn't done. The following year, he did ultimately pursue a transfer, and became eligible to start the 2019 season for the Oklahoma Sooners. Jalen had his best year as a starter, completing 69.7% of his passes for 3851 yards (11.3 y/a), and 32 TD to just 8 INT. He also ran for 1298 yards and 20 touchdowns. Hurts was still a runner first and foremost, but he had improved as a passer after his infamous benching at Bama.
Hurts and the Oklahoma offense started the season at a rocket pace and Hurts became the clear Heisman favorite. The offense cooled off for the second half of the year after the K-State loss, before ultimately losing to LSU in the playoff semifinal game 63-28. Joe Burrow took home the Heisman, but Hurts was the runner up (although it was not close).
The question now that will determine Jalen Hurts's future in the NFL is this: Is he a good enough passer to succeed in the NFL? In other words, is he a quarterback, or is he just a runner that can also throw it?
This one will vary tremendously depending on who you ask. Some will applaud Hurts's toughness, leadership, and production. They will argue that he has more than proved his ability, and that the league has evolved into allowing more running quarterbacks to have success. They might point to Lamar Jackson being overlooked in the 2017 draft, and claim that Hurts is suffering a similar fate, perhaps because of how we inherently look at black quarterbacks as "athletes". They might also look at Dak Prescott, another guy who was overlooked coming out of college, but who has become relatively competent as a dual threat QB, and argue that Hurts could be similar.
Others will tell you that Hurts spent two years on the best team in football before being replaced by a clear superior passer. They will argue that his gaudy 2019 numbers have much more to do with Lincoln Riley's system at Oklahoma than Jalen Hurts himself, and that Jalen simply isn't good enough of a passer to make it at the next level.
I think both sides make good points, but I tend to lean toward the latter. In fairness, Jalen certainly did improve as a passer throughout his college career. But the difference between him and Tua at Bama was so stark that it's hard to simply just ignore it. Tua would drop back in rhythm and pull the trigger into tight windows. Jalen, on the other hand, doesn't seem to have a great sense of timing in the pocket, and at times will run before going through all his progressions. He also benefitted from a tremendous offensive line at Oklahoma. I remember reading earlier this year that the amount of time Jalen held onto the ball in the pocket, on average, was longer than the amount of time every NFL QB from last year held onto the ball, on average. Jalen certainly can make guys miss, and he's a powerful and dangerous runner, but he's not going to help his offensive line with a superb sense of timing and release. His arm is solid, but his windup is also a little bit longer than it should be. His footwork and timing (or lack thereof) is also noticeable when compared to his two predecessors, Kyler Murray and Baker Mayfield, who both played with great movement and a pull-the-trigger mentality when compared to Hurts. Of course, Tua, Mayfield, and Murray were all phenomenal prospects, so it may seem a little unfair comparing him to them. But it also ain't easy being an NFL QB. Those are the breaks. 
The other big question with Jalen Hurts is how you build your offense with him if you do want to draft him. Lamar Jackson had a ton of success the past two years in a tailor-made offense in Baltimore. He's a different kind of passer than Hurts, but do you have to do something similar if you draft Hurts? That is, build an offense around his running skills? Are you willing to do that, and is Hurts good enough to merit that kind of treatment? Can that type of offense succeed with a passer who isn't on the level of Lamar Jackson?
At times, Hurts reminded me of RG3 in terms of his fundamentals. That may seem a little unfair to some, and maybe Hurts is a little more polished. He's certainly more mature, as RG3 did seem to struggle with some entitlement issues upon being crowned the next best thing so early in his NFL career. And RG3 had no experience with NFL routes in college, whereas Hurts has some. Hurts has dealt with adversity, and the intangibles are all there. There's no doubt that the locker room will love him. The question will be, is that enough?
Again, it's tough. I don't think teams should dismiss Hurts off hand. He had a good college career, and teams should study that closely. The question is, once they do, will there be enough there to convince you that he can succeed at the next level?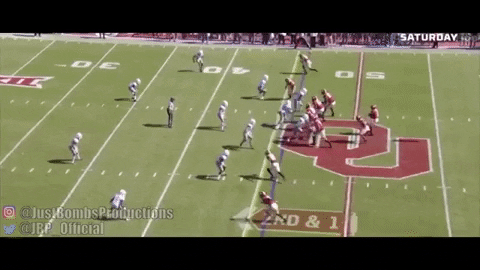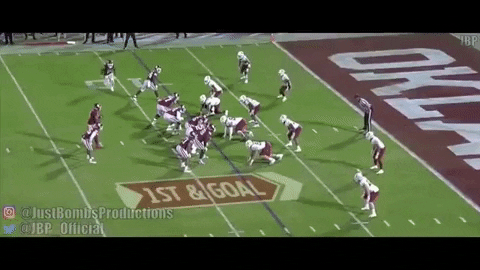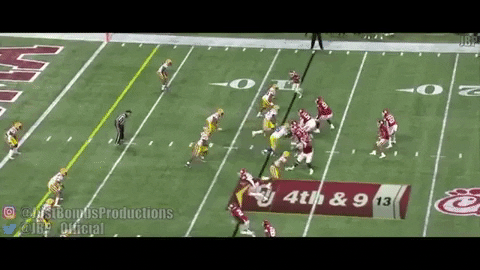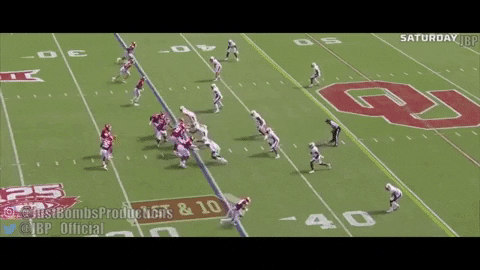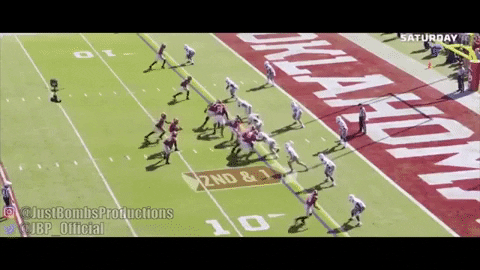 Jake Fromm

Jake Fromm was recruited by Georgia in 2017. After incumbent starter Jacob Eason was injured in week 1, Fromm took the reigns and never looked back. He led the dogs to the National Championship in 2017 and would go on to start, I believe, every game for Georgia over the next three years. Although Georgia never got back to the Natty under Fromm after the 2017 loss, they would make the SEC Championship the next two years. During these past three years, Fromm was, to my knowledge, one of the best QBs to ever play at Georgia. Every year, he completed at least 60% of his passes with at least 24 touchdowns and no more than 7 interceptions. Fromm's best year was 2018, where he completed 67.3% of his passes for 2749 yards, 9.0 yards per attempt, and 30 touchdowns to just 6 interceptions.
Fromm's game is built around timing and rhythm. He does not have a big arm, and although he has a fairly quick release, he doesn't always throw the tightest of spirals. Fromm compensates for his lack of arm strength with a superb sense of timing. He throws with plenty of anticipation and gets the ball out of his hands quickly, leading his receivers well before they make their break. Fromm is a pretty smart kid and generally knows where he wants to go with the football. He is efficient working the short to intermediate game. He does not take a lot of deep shots. He can throw deep efficiently when scripted, but struggles to go deep off of improvisation. At Georgia, Fromm was asked to keep the chains moving and avoid negative plays, and he did that very well. 
The big question with Fromm is if there's a ceiling on his play. He was incredibly efficient at Georgia when operating a balanced attack. When he had to throw more than 30 times, or when Georgia struggled to run the football, however, Fromm struggled. Georgia won most of the games on their schedule during Fromm's career, but each year there was one loss during the regular season where Georgia couldn't get the run game going and the passing attack would uncharacteristically struggle. In 2017 it was Auburn, in 2018 it was LSU, and last year it was South Carolina. Fromm also struggled in Georgia's 2018 bowl game vs Texas.
Georgia also never took the "next step" in beating Alabama or getting a National Championship under Fromm. In the 2017 natty and 2018 SEC Championship game, they gave up late leads to Bama. Last year they couldn't get any offense going in the SEC Championship vs LSU. Fromm wasn't always the problem in these games, but the fact remains that Georgia wasn't able to finish against Bama. Georgia took some heat for not giving Justin Fields more playing time at QB in 2018 during their losses. Fields would eventually transfer to Ohio State and have a Heisman caliber season. It will be interesting to see how Georgia's passing game looks this year with Jamie Newman at QB, who, like Fields, is more talented than Fromm.
Georgia's passing game also went through a cold stretch during the second half of 2019, where Fromm wasn't his usual self. Part of this can be attributed to injuries and youth at WR, as well as a new offensive coordinator. Outside of this stretch and the few games I mentioned, Fromm was a very efficient passer. However, the fact that this stretch was Fromm's most recent stretch of play may have some NFL teams concerned. 
Fromm was an efficient QB for a big time SEC team, but his name hasn't been mentioned much in draft news, so it's possible the NFL doesn't see him as a talent at the next level. However, I think there's a lot to like with Fromm. He's a timing and rhythm QB with pretty good twitch, release, accuracy, anticipation, and decision making. He's also a very likable kid who's easy to root for. He doesn't have the biggest arm, and his size, while not awful, isn't great (6'2" 219). Nonetheless, I think Fromm could be productive as an Andy Dalton type of player. Remember, Dalton was never the most gifted quarterback. He was drafted in the second round, but he still went on to start for the Bengals for 9 straight seasons, 5 of which were playoff years. Dalton set the bar for an efficient, ball distributor type of QB that could run your offensive effectively with enough team around him. I think Fromm could potentially do the same.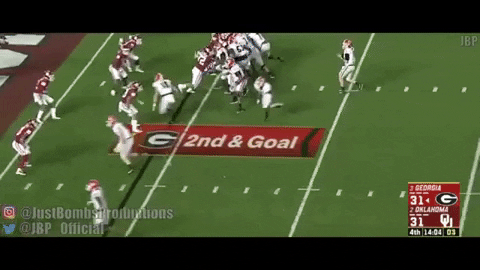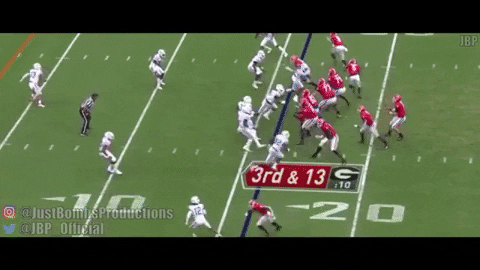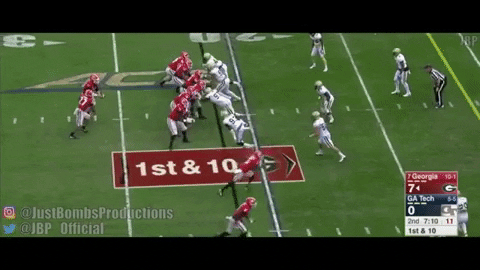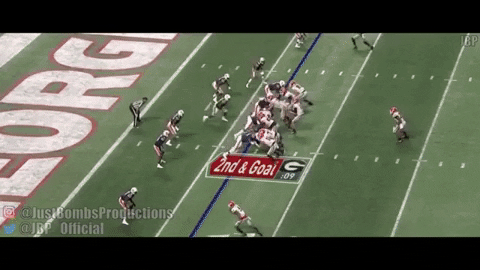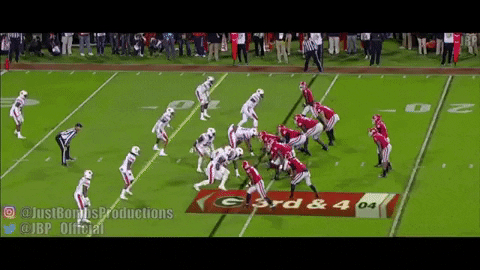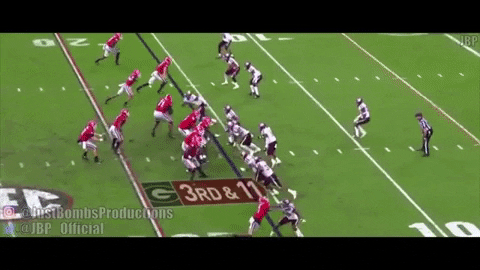 ---
All of these guys have strengths and weaknesses. Ultimately, it will be up to NFL teams to decide whose skillset translates to the NFL, and whether their strengths can be built upon while weaknesses are minimized.