The Football world is in shock right now. Just this past Saturday, August 24, 2019, shortly after the Colts' 3rd preseason game and just before starting his 8th year in the NFL (including the 2017 season, which he did not play due to injury, as well as his injury shortened 2015 season), Andrew Luck announced his retirement from Football.
"For the last four years or so, I've been in this cycle of injury, pain, rehab, injury, pain, rehab, and it's been unceasing, unrelenting, both in-season and offseason, and I felt stuck in it […] I've been stuck in this process. I haven't been able to live the life I want to live," said Luck at his retirement press conference. "Taken the joy out of the game, and after 2016, when I played in pain and was unable to regularly practice, I made a vow to myself that I would not go down that path again. I find myself in a similar situation and the only way forward for me is to remove myself from football and this cycle that I've been in." Luck is just 29 years old.
For those outside of Football, it may be hard to understand why this is such a big deal. But make no mistake, this news is about as shocking as it comes. Andy Benoit of Sports Illustrated called it, "One of the biggest, most shocking breaking news items of all-time", and I don't disagree. When I first saw the news, I was at a bar with my friends, waiting for a dinner reservation. I was seated in good viewing distance of a TV, as the Miami-Florida College Football Kickoff game was on. I was glancing at the TV intermittently, but not really following it. Then I saw the breaking news bar at the bottom of the screen flash red: "Andrew Luck Retires from Football", it said. I immediately yelled in surprise, and rushed to my phone to confirm the news. Not many news outlets had picked up on it yet (the news would quickly rush across the sports world in the next few hours and over the next day, prompting all sorts of reactions), but there it was on Adam Schefter's twitter feed: "Filed to ESPN: Andrew Luck has informed the Colts he is retiring from the NFL, per source. There will be a press conference Sunday to make it official, but Luck is mentally worn down, and now checking out." Then, the following three tweets:
"Andrew Luck already has met with Colts' owner Jim Irsay to tell him that he is retiring, per source."
"Jacoby Brissett is Indianapolis' new starting Quarterback." (Brissett has been the Colts backup for the last few years; they traded for him after the Patriots drafted him in 2016, during which he played a game and a half for the Pats during Tom Brady's 4 game deflate-gate suspension. Brissett filled in admirably for Luck in 2017 when Luck was injured, but the Colts still only won 4 games.)
And finally: "Andrew Luck is 29 years old. And ready to move on from the NFL."
Those tweets, and that breaking news scoop, will go down in NFL history. Luck was planning to announce his retirement Sunday, but with the news out, he had no choice but to do it after the preseason game, of which the news broke in the middle. Surely learning of this news in the middle of the game, the Colts fans would boo Luck off the field as the Colts exited, seemingly reaffirming that Luck had made the right decision.
(Side note, how does Schefter get these scoops so quickly? I seriously wonder how insane his network must be. He's so tapped in, it's crazy. ((For those who don't know, Adam Schefter works for ESPN, and is the league's best insider, always breaking up to the minute scoops from inside sources. Had the news come from anyone else, it would have been justifiable to doubt, but from Schefter, it's bound to be true.)))
So anyway, there I was, with my friends at the bar, just learning of this bombshell. One of them is a casual NFL fan, the other not really into Football, as far as I could tell. They humored me for the sake of conversation, but quickly moved on. I would go on to have a fun night with them, but I still could not get the Luck news out of my head for some time. This was insane!!
To be honest, it shouldn't have been that shocking to especially to me, out of all people. That's because I remembered when Luck missed the 2017 season, and the events leading up to it. It was not expected, but as the offseason went on and on, you saw more and more news that the injury (unforeseen the previous year) wasn't progressing, and that Luck wasn't practicing, until BAM – Luck would miss the season. So he had an injury history, and anyone who's watched the Colts in Luck's tenure know he has taken an absolute beating in his first few years, carrying the Colts in a downfield, pass heavy offense behind one of the worst offensive lines in the league. It was fair to wonder if that had a permanent effect on him when it came to his body.
And leading up to this season, we started to see the same whispers. First, no one suspected anything. Luck was back after a high level season, and the Colts were set to be the cream of the crop in the AFC. But then came the whispers, even fewer this time, but still there. Luck's injuries re-emerge. Luck not practicing. It felt like a familiar story. And it slowly but steadily grew the closer we got to the season, even if ever so quietly.
At that point, I considered writing an article (I have lots of article ideas in my head on the regular, but I rarely end up writing them…) saying that if Luck had to miss the 2019 season due to injury, he should consider retirement, for the sake of his body. So I literally, in a way, predicted this! It should not have been at all surprising to me. Yet, it still was. In no world did I expect this to happen even before the season started, and to see it there, was just surreal.
So Luck is done. But why was this such a big deal? Players retire all the time, especially from injury, when it comes to one of the most dangerous sports out there. To answer that, let's take a look back at Luck's career, that of a Quarterback who was always special and always overachieved, but whose career has now been cut much shorter than it ever should have been:
Not-So-Humble Beginnings: The Franchise Savior
Luck was drafted with the No 1 overall pick in 2012 by the Indianapolis Colts out of Stanford. He carried with him an enormous amount of hype, perhaps as much since the Quarterback he replaced, another No 1 overall pick: Peyton Manning, drafted in 1998 by the Colts out of Tennessee.
Let's talk about that Manning fellow: He carries with him as big a legacy as just about anyone who played in this game. He brought the Colts to over a decade of relevance, put up league leading numbers year in and year out, changed the way the Quarterback position is played and prepared for, and is one of the best, if not the best, Quarterback to ever play the game. He was also, for years, more or less the face of the league. Peyton Manning didn't just play for the Colts; Peyton Manning WAS the Colts.
But after the 2010 season, Manning faced a serious neck injury, and his football future came into doubt. He could barely throw a Football, and many believed he would never play again. (He went on to set all time records with the Denver Broncos and win another Super Bowl, but that's another story, and just another testament to his greatness…) So in a move somewhat similar in its shockingness to what we're facing with Luck today, the Colts made the difficult decision to release Peyton Manning. With his Football future in doubt and a sagging roster, they felt it was time to move on to the next era of Colts Football. This happened after Manning missed the entire 2011 season, and the Colts, utterly unprepared for his absence, won just two games. That's one of the reasons they decided to move on from Manning; they had acquired, via their sheer awfulness, the No 1 overall pick in the 2012 Draft–prime position to snag that Luck kid out of Stanford. Manning would forever be a legend in Indianapolis, but this was an opportunity too great to ignore. This was an opportunity to pass the torch from one franchise QB to another, something you rarely see in Football. That's what every franchise dreams of. This wasn't about the last decade, it was about the next one, about the future.
Luck's Rookie Year: Far Beyond What Anyone Could Have Expected
I didn't follow College Football or College QBs back in 2012 like I'm starting to do now, so I didn't have a great read on Luck coming out of College. Nonetheless, my general memory is that he was a really good and smart high level game manager for Stanford. He played for Jim Harbaugh and Pep Hamilton, an offense heavily focused on West Coast, short style passing, with a focus on the tight ends. Luck led a lot of comebacks and was responsible for a lot of wins. But it was a controlled and methodical passing game.
Luck always had a great head on his shoulders, and there was never any doubt that he could handle the pressure of the NFL that came with being the first overall pick. He was a valedictorian at Stanford, and he was about as intelligent, polite, and as good a guy as there could be.
Nonetheless, the Colts team that he took over for was an absolute wreck. As I said, they only won two games the prior year. They were in complete and total rebuilding mode. As good a prospect as many saw Luck, NO ONE thought they would compete his first year. 4-6 wins at best were what was expected. Luck took that expectation and blew the door down.
To this day, Luck's rookie season in 2012 is one of the best and most impressive rookie seasons I have ever seen. I can't think of any QB that would have been successful on that Colts team. And yet, he singlehandedly took them to the playoffs, a place they had no business being. The smart, methodical, caretaker that Luck was in College? Thrown out the window. In his place, become a gunslinger. With new Head Coach Chuck Pagano facing treatment for cancer and unable to coach, Bruce Arians became the interim head coach. And for anyone who knows Bruce Arians, you know what that means, and you know what kind of offense he likes to run: Spread the field, empty backfield, 5-7 step drop downfield route combinations. When it's humming, it's hella fun to watch, but it's not at all QB friendly, and not just any QB can run it. That year, Luck in that offense was asked to do things that many veteran QBs aren't asked to do, and that many veteran QBs can't do. Not only did he do those things, he did them to perfection. The offense was a lot of 5 wide receivers, a lot of downfield shots, a lot of standing in the pocket, and a lot of full field route progressions. For a rookie QB, that's insane. But the throws he made, were some of the best throws I've seen, and he made them regularly, and on a week to week basis. Not only that, but he made them at the most important of times
Luck singlehandedly took that Colts team to the playoffs. Running game wasn't there. Offensive Line was not good. Defense wasn't good. Receivers were TY Hilton (before he was a star), an aging Reggie Wayne, Donnie Avery, and LaVon Brazill. He had 7 4th quarter comebacks that season. Here are some highlights: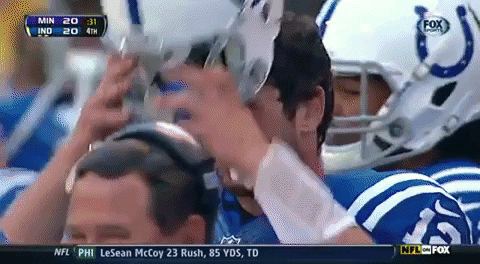 This was Luck's second career start. He had 30 seconds to get them in field goal range. He did.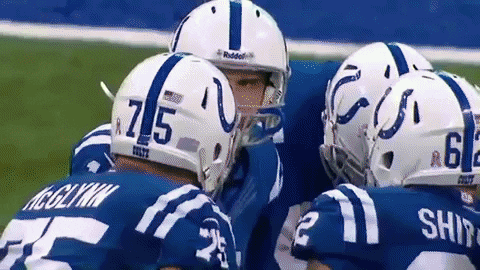 (That's Luck shrugging off Clay Matthews by the way. On 3rd and 15. Against the Packers. with less than 2 minutes to go.)
Look at the score by the way. The Colts would win that game.
Same game. Needs a touchdown with under a minute and no timeouts. He would get it.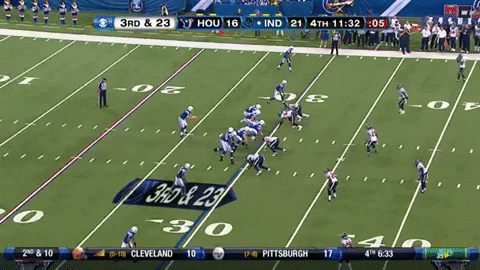 BEAUTY. (On 3rd and 23.)
I'm sure there are many more, but those are the plays I specifically remember from that year.
The Colts overachieved so much that year. All but two of their wins were by one score. But three of their five losses were by three or more scores. (One of their losses, the 17-22 loss to the Jaguars, by the way, was a game where Luck led a late score in the 4th Quarter, only to then lose the lead again with little time left. That happened in Week 3 of Luck's career. It never happened to Tom Brady until the Super Bowl in his eighth season. (And that was on the Tyree drive.))
This Colts team that was supposed to win 4-6 games went 11-5 and went to the playoffs. They lost to the eventual Super Bowl champion Ravens 24-9 in the first round of the playoffs. Luck didn't play poorly, but he didn't play great either. They were simply outmatched as a team; it really wasn't a surprise.
Already, Luck was a star. He got some hype that year, but it was mostly overshadowed by the other two successful rookie QBs that came from that class: Robert Griffin III, and Russell Wilson.
RG3 won rookie of the year, and most people probably considered him the best rookie QB of that season. He wasn't. If most people had to rank the 3 rookie QBs that year, they probably would have ranked them 1) RG3 2) Russell Wilson 3) Andrew Luck. They had it backwards. Some people acknowledged Luck, but others just thought he was too interception prone.
The truth was that Luck was far and away the best of the three. It was clear in terms of the throws he was making and the impact he was having on his team. He was thriving on an incredibly high difficulty level. Wilson had a good second half of the year, but was carried by the run game and defense for a lot of it. And RG3 was playing in an incredibly simplified offense–more or less the Baylor offense. It wasn't sustainable, and that's why, like Kaepernick, he regressed each of his next few years, before losing his starting role.
And yes, Luck did throw 18 interceptions his rookie year. That's what happens when you're playing in the type of aggressive, downfield offense he is, and when the team's success rests solely on your right ram. Not to mention that about half of his interceptions came when he was down multiple scores late in the game. Of course, people don't look at this stuff, nor do they care to.
At the end of the day, it can't be overstated. Luck's rookie season was phenomenal.
2013-2014: More of the Same
Luck continued to be one of the top QBs in the league during the next few years, and he continued to improve his game each year. No, he wasn't perfect all the time. His 2013 saw the occasional roadbumps, and Luck wasn't always as phenomenal as he was under the Arians offense. They again lost 5 games, a few of them blowouts. But Luck showed up for the big time games, cashing in excellent performances in wins against San Francisco (27-7), Seattle (34-28), and Denver (39-33).
But the team holes were still there. Luck was still taking a lot of hits from poor OL play and a scheme that asked him to hold onto the ball for too long, and the defense's weaknesses were no more evident than in the 38-8 loss to the Rams. (Or the 11-40 loss to the Cardinals. Or the 42-28 loss to the Bengals.)
But the Colts went to the playoffs, and Luck once again proved that he is a damn special player, capable of doing things others couldn't dream of. In the Wild Card round, the Colts started the game especially poorly, as the Chiefs came out with a 38-10 lead. Luck went on to win the game 45-44, throwing for 443 yards and 4 TD. The 28 point comeback is the second largest in playoff history. He also threw 3 INT, but none of those came early in the game to put the Colts down. This became common in the Luck era Colts: During big time deficits, the Colts would dig themselves into a hole very quickly, and rarely did it have to do with Luck. This was rather unique to Luck. It happens to everyone occasionally, but it didn't happen to anyone as commonly as Luck. Think about it: Do the Patriots ever fall into huge deficits early in the game when Brady is playing well? Almost never.
Despite Luck's prowess, this team clearly wasn't built to compete with the big boys, and it showed the following week. The Colts lost 43-22 to the Patriots. They gave up 166 yards on the ground and 4 TDs to LeGarrette Blount. Luck threw for 331 yards and 2 TDs, but also for 4 interceptions. But again, most of them came late in the game facing a big deficit. See the pattern? Interceptions thrown when you're already down by a few scores simply aren't the same as those that take your team out of the game, and Luck rarely threw the latter kind. That didn't stop the criticism from coming.
Once again,  Luck had exceeded expectations and done spectacular things playing for an average at best Colts team. But you know how it goes: Great players get hyped a lot, and end up having to do more for lesser teams. Despite that, because of the hype, people expect too much of them, and hold them to unreasonable standards, not praising them for keeping the teams competitive, but instead faulting them for not being able to have better team outcomes. All that stuff Luck did, didn't matter. He lost to the Patriots, and he throws a lot of interceptions. Where's the Super Bowl? It's over simplistic and and bad analysis, but it's easy, and it's how people view the games. For years, we saw the same thing with Peyton Manning. It didn't matter that he took so many Colts teams to the playoffs that had no business being there. He took 8 years to win his first Super Bowl, and for many people, that was all that mattered. We saw the same narrative beginning to develop with Luck, except his teams were even worse than Peyton's! Would the Colts ever get him an oline and a defense?
Luck's next season in 2014 was definitely one of the more underrated seasons you'll see from a Quarterback. He threw for over 4700 yards and 40 touchdowns. It was a great QB year overall for sure, with Aaron Rodgers winning his second MVP award, Tony Romo having a career year (he had a good case for MVP over Rodgers), and Brady ultimately going onto win his 4th Super Bowl. Nonetheless, Luck was a top QB that year. The Colts offense was clicking on all eight cylinders, and Luck continued to absolutely flush some throws. He really looked like he was coming into his own. For everything he had done up to that point, Luck had again taken it to a new level. And he was again making high level of difficulty, deep throws with precision. But were the Colts getting better around him? The offense had some more weapons, certainly. But the defense gave up 500 yards and 6 TD to Ben Roethlisberger in a loss, gave up 201 yards rushing to Jonas Gray on the ground in a 42-20 loss to the Patriots (Jonas Gray was never heard from again), and, in a perfect example of one of those "the game is over before Luck gets a chance to do antyhing" games, lost 42-7 to the Cowboys.
But Luck's prowess mostly covered it up. And he also continued his trend of going further in the playoffs than the year before. The Colts had a comfortable Wild Card win against the Bengals, where Andrew Luck made one of the best throws you will ever see. The next week, he went to Denver and beat out the man he replaced, Peyton Manning. Luck was just a game away from the Super Bowl at this point, but he once again had to face the Patriots. But surely the Colts had learned how to play some run defense after getting gashed on the ground the last two games they played the Pats, right? Wrong. Blount rushed for 138 yards and 3 TDs, and the Colts got blown out, 45-7. But this time, Luck didn't play quite as well, and that would a harbinger of issues to come.
2015-2017: Injuries and Attrition
2015 is when the issues began for Luck. The Colts began the season 0-2, with Luck throwing multiple interceptions in each game. The interception bug continued to bite for Luck as the season went on, and pundits were more than ready to dig Luck's grave, something they had clearly been ready to do for years. Luck rallied the Colts to wins in weeks 3-5, and he still continued to be able to make impressive throws…  but something was off. They lost their next 3 from weeks 6-8. Week 6 was a Patriots loss, with more Pats success on the ground. But it also became famous for the Colts attempting one of the worst trick plays you'll ever see, an attempted fake punt with the entire punt team shifting to the right of the field, leaving just the center, the football, and one player to take the snap on the left side of the field. There was literally no other protection other than the center. The Pats put two defenders over the center, he snapped it anyway for some reason, and the Colts WR was quickly tackled by the two Patriots. It became a nice microcosm for how bad this Colts coaching staff during the Luck era was.
The next two games, the Colts offense did nothing for most of the game, and then led almost-comebacks that were too little too late. It was revealed that Luck was battling an injury and he would be eventually shut down for the season, but even injury-addled Luck, in his worst season, still had some great performances left in him. We saw that in Week 9, Luck's last game before being shut down. He led a 27-24 win against the then-undefeated Broncos (the best defense in the league that would go on to win the Super Bowl).
The aging veteran QB (almost 40 at the time) Matt Hasselbeck would take over for Luck (before getting hurt himself). He led the Colts to victories over the Falcons and Bucs in his first two weeks taking over for Luck. This led to some pundits to claim that Hasselbeck was a better fit for the Colts than Luck. That lasted until the next two weeks, when the Colts lost 45-10 to the Steelers and 51-16 to the Jaguars. That about shut down those takes.
Luck came back for 2016, and he had a really good year, continuing to play at a high level and make impressive  throws. But the Colts missed the playoffs at 8-8. 5 of the losses were one score games. It was a nice bounceback year for Luck, but with a bad season followed by no playoffs, no one really cared. They were ready to write Luck off.
Yet, it was clear to anyone that had been following Luck's career that Luck was not to blame for the Colts struggles. Year in and year out he was asked to throw down the field behind a poor oline with bad coaching and no defense. People wondered if those constant hits he took behind that line would catch up to him, and it turns out they did.
During 2017, Andrew Luck sat out the entire year to rehab an injury. Despite Jacoby Brissett filling in admirably, the Colts went 4-12.
This was Luck's sixth year in the league, but it felt like a lot of it had been wasted. With the severity of his injuries, people started to wonder if this was it for Luck.
2018: Seemingly New Beginnings
Finally, the Colts started to recognize their mistakes, and do what they should have been doing his whole career: Putting a competent team and coaching staff behind Luck that he could thrive under. And to our surprise, it actually worked! The Colts cleaned shop of the Irsay and Pagano era, and hired Frank Reich as their new Head Coach, Chris Ballard as their General Manager, and Matt Eberflus as their defensive coordinator. Of course, these three couldn't rehaul the roster overnight, but they worked the draft well, and made best with what they had, covering up personnel weaknesses with scheme. Luck maintained the ability to throw absurd downfield passes when needed, but under the new scheme, he embraced more of a quick passing game, increasing his efficiency and protecting his body from unnecessary hits. The result was a career high in completion percentage. The oline and defense both improved. Though Luck had been in the league for seven years, this felt like a new beginning. The organization was finally on the right track, and could finally give us the Luck we had all been hoping for: One that could compete with the AFC heavyweights without being dragged down by his team. Luck was a top QB in the league last year. He won comeback player of the year, and added another playoff win to his resume before falling to the Chiefs on the road. But the future truly looked bright.
2019: The End
That's what makes this all so shocking. Luck was one of the best in the league last year. This team owned their division, and looked to be a Super Bowl contender. Luck claimed in his retirement press conference that the injuries took away his ability to enjoy the game. With that, you will surely have pundits engaging in revisionist history, asking if Luck ever really was a Football guy at heart. But I can assure you, that's BS. He was always all-in with the game and with his teammates.
Luck's retirement announcement came late, just before the season, angering many outsiders (because, you know, athletes are slaves for our entertainment,  it's not like they have their own life to worry about..). But from what I can gather, the process was similar to what happened before the 2017 season that Luck ultimately missed. He was on track to play, then he started to face an injury that, as time went on, proved to be more and more severe, until it was ultimately apparent that this would be a much bigger deal than anyone suspected.
The Tragedy of Andrew Luck
Let me start by saying this: Luck did the right thing in retiring. He said that he promised himself  he would never go through what he did in 2017 while rehabbing, and he had to be true to himself. He said that because of the injury, he didn't love the game as much as he used to. And when that happens, you have to get out. The game is simply too brutal to play if you're not all in. Luck knows there's more to life than Football, and he wants to experience those things before it's too late, like it has been for so many others whose bodies were destroyed playing Football. When your body tells you it's time, that's when you know. On some level, Luck didn't have a choice. He didn't have anything more to give, and you have to listen to your body. After all, the kid has been through hell and back:
The mere fact that we (myself included) look at this as sad shows the problem with fandom and how we view sports and athletes, the discrepancy between the false spectacle it creates and the stories of the actual people behind it all. Football is not real; it's a game. Life, and people, they are real. Luck's retirement really should be something to be celebrated. Luck is making the right choice, and now he will get to live his life (hopefully) free of pain. I'm happy for him, and wish him nothing but the best.
But at the end of the day, however flawed, I am a fan, and I can't help but see it from a fan's perspective. And from a fan's perspective, we were just robbed of someone that could have, that should have, been an all time great. There aren't that many people that you can say that about. Luck was one of them. The fact that he didn't get the opportunity to live up his potential, just doesn't seem right.
Look, there are a lot of factors that went into this. I don't intend to blame any one person or thing. This was Luck's decision, first and foremost. And there's always risk of injury when you play Football. Having said that, it's hard not to see this as a massive failure on the part of the Colts organization.
Luck did spectacular things on the Football field. But from day one, he was never given the support he was needed to not only be successful, but to protect himself.
Luck took too many hits from the beginning, and it was never corrected. Yes, it's part of the sport, but you can't say these things don't have an effect, and this was preventable. Over the days, weeks, years, those hits take a toll, and despite his ability to continuously play at a high level, it clearly permanently damaged Luck, to the point where he had to cut his career short. I have no doubt that if Luck was drafted by a different team, he would still be playing.
Andrew Luck gave us an amazing career of Football. He was put in situations other QBs would not succeed in, and he consistently went above and beyond to thrive. When it comes to 4th Quarter Prowess, ability to win high scoring games, deep passing ability, and ability to put the team on on his back, Luck was as good as anyone. His skillset was truly unique: The big playmaking ability and escapability of Ben Roethlisberger, with the accuracy and field general ability of Peyton Manning.
Put simply, this is now how it should have ended. Luck could have played 15-20 seasons in the NFL with a chance at the Hall of Fame. He should have been battling it out with Tom Brady and Patrick Mahomes for AFC Supremacy year in and year out for the next decade. Instead, he was forced to retire.
When it comes to missed opportunity, it doesn't get much worse than that.